With headliners like Grammy performer Mary Lambert
LGBTQ musicians gather at Saratoga Springs, California for the inaugural Luscious Queer Music Festival.
Imagine three days of camping beneath groves of oak trees, dining on fabulous food, and best of all, attending the musical Mecca of LGBTQ musicians, DJ's and comedians.
Ladies, it's going to be three marvelous nights to remember. With headliners like Grammy performer Mary Lambert, lesbian icon Cris Williamson and nationally lauded Marga Gomez, LUSCIOUS Queer Music Festival is definitely a summer event to mark down on your calendars.
History will be made this summer: Luscious Queer Music Festival is Northern California's first LGBTQ music festival and it is slated for August 22-24 at Saratoga Springs in Upper Lake California. The concert promises to be a "queer Woodstock."
Scenic Saratoga is known for its numerous LGBT retreats and events, making it the perfect place to kick off the very first Luscious Queer Music Festival.
Bring your partner and all of your friends because Saratoga expects to be able to house 1000 festival participants who can enjoy long hot summer days and warm summer nights listening to an exceptional line­up of national headlining and local favorite LGBTQ musicians and more.
Musicians slated to appear include Curve cover girl Mary Lambert, fresh off her 2014 Grammy performance, lesbian music legend Cris Williamson, comic and actor Marga Gomez, andgenderqueer cabaret star Mx. Justin Vivian Bond, plus many more.
DJ's include San Francisco's Page Hodel, DJ Justime, DJ Lamont, and many more.
The location will be primed and ready for those interested in camping and guests will be fed by local food vendors. There really is no better place for the musical festival to be held than the beautiful secluded valley of Saratoga, which is nestled in the hills of Northern California, just two and a half hours north of San Francisco or two and a half hours west of west of Sacramento.
Header liners Mary Lambert, and Cris Williamson shared their thoughts on the upcoming festival, commenting on their support of all LGBT events.
"I love doing LGBT based performances. The gay community is so much a part of my experience as an artist, and when I do shows like the Luscious Music Fest, I'm able to devote time to a part of who I am. I love that," said Mary Lambert.
Cris Williamson also agreed on the importance of LGBT events saying, "Every event such as Luscious Music Festival provides yet another opportunity to integrate our arts and our lives, and demonstrate that community is possible and necessary for all of it to have sustaining power."
Both shared their excitement at being invited to attend and perform at the very first Luscious Queer Music Festival, with Cris exclaiming that she is absolutely excited for the event saying, "There is so much variety now, so many professionals in so many aspects, it makes a festival stand up and truly be proud."
Mary and Cris have similar hopes for the music industry's evolution and move towards full LGBT acceptance. "I think we're on a wonderful path of evolution," said Mary. "Sam Smith is breaking records with his number one album right now.
Not a number one 'gay' record. He's simply an artist that happens to be gay. Obviously, our identities shape what we create- but they shouldn't pigeonhole us into a genre of 'gay music.' Hopefully the understanding is that performers like Sam and I are artists that make great music first and foremost, that just happen to be gay."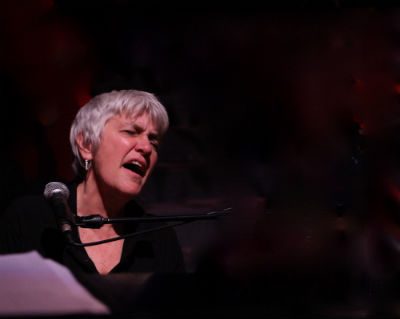 Cris voiced her admiration for the growth that the music industry has seen, saying that, "Just in my lifetime, I've seen so many changes in this country, in what we see in film and TV, and hear on the news.  I just want the embrace to continue to widen as people become less afraid of what they do not know."
In the spirit of progression as well as kindness, a portion of the proceeds of Luscious Queer Music Festival will go to ORAM and JFCS/East Bay's LGBTI Refugee and Asylee Program, to make an impact on LGBTQ immigration rights by raising desperately needed funds to help LGBTQ people being violently persecuted in Africa and Russia, successfully seek asylum in other countries where their lives will not be in danger.
Tickets available through www.eventbrite.com.