A look at the positive things that 2019 has to offer.
No one could deny that 2018 was a crazy year for the LGBTQ+ community, but what do we have to look forward to in 2019? Well, there are far too many things to list in one article, so I've narrowed it down to my top 19.
Political shakeups
US Supreme Court Justices via Wikipedia
1. Increased legalization of same-sex marriage:
In Taiwan, a constitutional court ruled back in 2017 that the country must introduce same-sex marriage within two years, which could mean that it is legalized this year, despite a referendum defeat in 2018. While changes to the Cuban constitution and a supportive president are paving the way for marriage equality there.
2. Rainbow Wave enters US Congress:
By the time you read this, the openly LGBTQ+ congress people that I highlighted in my Queer in Review will have already taken office. While they have the power to change the US laws and policy on queer rights, it's also important to note that Capitol Hill just became a little more representative.
3. US Congress could pass LGBTQ+ rights bill:
At the end of 2018, Nancy Pelosi, now the House Majority Leader, said that her top priority for this year was passing the Equality Act. Hopefully, by the time you read this, the government shutdown will have ended and Pelosi can draft the bill.
4. US Supreme Court could outlaw discrimination against LGBTQ+ people:
Sadly, it is still perfectly legal to discriminate against someone based on sexuality or gender identity in certain parts of the US, but the Supreme Court is set to rule on whether this violates Title VII of the Civil Rights Act of 1964.
5. More bans on conversion therapy:
You probably don't need to be told why conversion therapy is bullsh*t, so instead I'm going to tell you that Utah could be the first place in 2019 to ban the practice. Hopefully, this will spur other states (and countries) to do the right thing.
Queer entertainment
Tegan and Sara Via Wikipedia
6. More queer characters on TV:
Last year, LGBTQ+ representation on TV was the best we've ever seen, so I'm excited to see if any of my current faves will come out over the course of the year (i.e. Doctor Who), but I'm even more excited to see the queer characters in brand new shows, which leads me onto…
7. New queer TV shows:
If you're not currently a Netflix user, then now is the best time to sign up because the streaming service is adding 300 new TV shows and movies focused on LGBTQ+ characters over the next two years. But even if you're not into Netflix and Chill, there are plenty more queer-focused TV shows heading your way, like Years and Years, Now Apocalypse, Drag Race UK, and Batwoman.
8. New queer films:
Have you got a movie buddy? You'll need one because there are some incredible films featuring LGBTQ+ characters coming out this year. I can't list them all, so here are my faves: Girl, Baby Jane, Ammonite, Tell It to the Bees, Benedetta, Happiest Season, What If It's Us, Rocketman, and Jungle Cruise.
9. New queer books:
For those of you who prefer curling up with a good book, there are literally hundreds of LGBTQ+ focused books coming out in the next few months. Here are the ones that I've pre-ordered/made a note to pre-order: The Princess and The Fangirl, You Asked For Perfect, The Meaning Of Birds, These Witches Don't Burn, and I Wish You All the Best.
10. The Tegan and Sara memoir:
Yes, I could have included in with the queer books listing, but I think that the iconic lesbian indie pop duo's book about growing up in Calgary in the 1990s deserves its own spot on the list.
11. The last season of Orange is the New Black:
After seven seasons, OITNB will finish this year and although I'm sad about it, I really want to find out what happens to the characters (mainly Alex).
More awards for LGBTQ+ artists and media: It's awards season and that means that queer artists or media will hopefully get the recognition they deserve.
12. The Golden Globes:
At the first awards show of the year, the LGBTQ+ community cleaned up, with winners including films Bohemian Rhapsody, The Favorite, and Green Book, TV shows A Very English Scandal and The Assassination of Gianni Versace, and openly bi actress Lady Gaga.
13. The Grammys:
Queer musicians like Brandi Carlile, Lady Gaga, Janelle Monáe, Bebe Rexha, and St. Vincent all received Grammy nominations for 2019.
14.The Oscars:
The Oscar nominations haven't been released as of writing, but many are predicting big wins for queer films, including The Favorite, Can You Ever Forgive Me?, Bohemian Rhapsody, Green Book, and Boy Erased.
15. More celebrities coming out:
We saw a wave of celebrities coming out as LGBTQ+ in 2018 and I'm sure this will continue this year. This is a great thing for the celebrity in question and for our community as a whole because representation increases acceptance.
Pride Time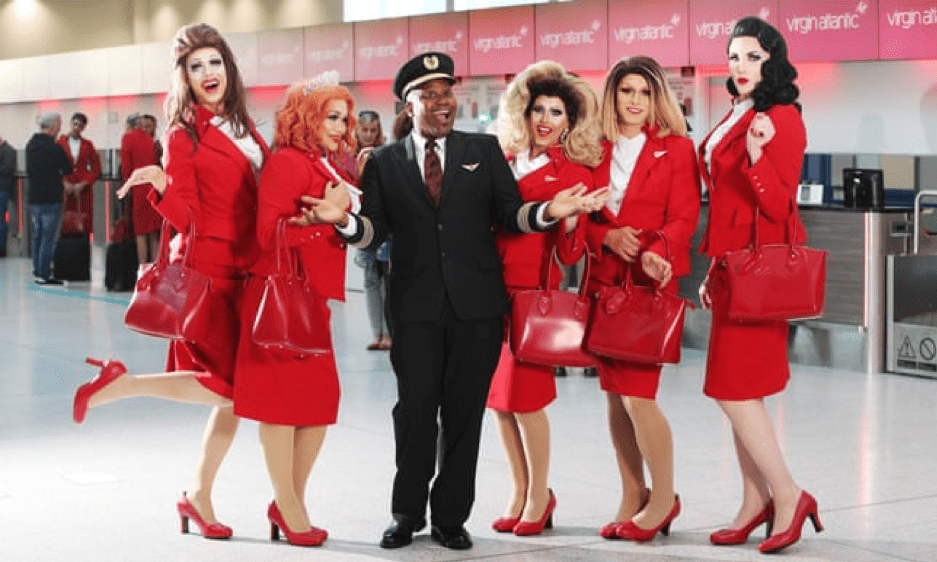 Pride Flight via Virgin Atlantic
16. The Stonewall Riots turn 50: NYC will host World Pride for the entire month of June to celebrate the day that changed the course of LGBTQ+ history.
17. Flying with Pride: Speaking of the Stonewall Riots, Virgin Atlantic will host a "Pride Flight" from London to New York to commemorate the anniversary. The flight, which will be hosted by Broadway actor and Netflix star Titus Burgess and have an all-LGBTQ+ crew, will feature inter-seat speed-dating, an onboard DJ, and live performances.
18. The first openly LGBTQ+ BBC news correspondent: As a journalist myself, I was ecstatic about this. In 2019, Ben Hunte will be BBC News' first openly LGBTQ+ correspondent.
19. Your individual successes: Now, there's no way that I can know all of the amazing things that I'm sure 2019 has in store for you. I don't even know exactly what it holds in store for me. Whether you're starting a family, moving house, getting a new job, or coming out, know that there is an incredible community behind you, cheering you on.
Hopefully, this article has shown you that even in the darkest of times, we still have a lot of things to look forward to.