Antigone Rising
Latest music video "Get to You' by all female, country-rock-and-roll band Antigone Rising
Antigone Rising is the family you wish you always had; this incredibly talented group of women are as tight as sisters (Cathy and Kristen Henderson actually are sisters) and their new tour around the states has them bringing their incredible brand of country-party-rock all over the nation.
"It's awesome," said band-founder and lead guitarist, Cathy Henderson, "we've hit the road pretty hard since the release of our last EP ("Whiskey &Wine- Volume 1")."
Even though the 2014 tour is not Antigone Rising's first rodeo, Cathy Henderson said that being on the road with the band is their home away from home. With the edge of a rock-and-roll band and the soul of country singers, Antigone Rising has also recently released their brand new music video for their song "Get To You" officially hit cyberspace:
The all-female-boot-stompin'-alt-country-rock band film-reviewsed the music video with directors Jie Yi and Valerie Lasser during their run of New England tour dates back in March 2014. The catchy track is taken from the band's newly released EP Whiskey & Wine – Volume 1, which dropped on iTunes and their official website March 25th, 2014.
Life on the road isn't always easy, but having a solid group of women as your travelling companions, takes some of the sting out of missing home. '
"Get to You" captures life on the road… we want to get back home to the ones we love," Kristen Henderson, songwriter and bass guitarist said, describing the bittersweet experience of being on tour.
The concept of the "Get To You" video is meant to invoke the sense of bonding and spiritual sisterhood that naturally forms and is collectively shared between all band members while on the road, living together in close quarters for long periods of time, be it on a tour bus or on stage.
The music video gives an exclusive behind-the-scenes glimpse into Antigone Rising's tight-knit camaraderie which provides all four of them—Kristen Henderson, Cathy Henderson, Nini Camps and Dena Tauriello—a much-welcome backbone and support for the long weeks spent away from home and from their loved ones. "Get To You" ultimately shows how on the road, Antigone Rising is a family.
Antigone Rising was the first band on Starbuck's Hear Music (Lava Records) that exploded into the spotlight selling over 150,000 copies of their debut LP and landing in the top 20 of the "Billboard Heatseekers" chart for an entire year.
Since then, Antigone Rising has gone from touring with such prestigious acts as The Rolling Stones, Aerosmith, The Allman Brothers Band, The Bangles and Rob Thomas; traveling to the Middle East, spending time in Israel and the West Bank as cultural ambassadors for the United States Embassy, to making national headlines for having its co-founding member, Kristen Henderson featured on the envelope-pushing cover of Time Magazine's Equality issue kissing her wife, Sarah Kate Ellis.
With an enduring success that ensures constant touring, it's hard to find a band currently busier than Antigone Rising.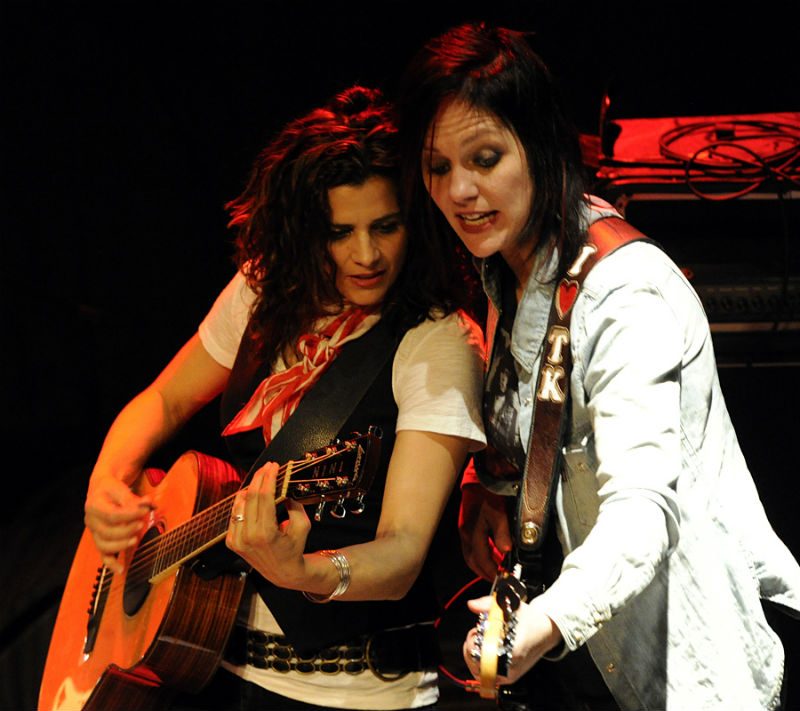 Antigone Rising has come quite far over the past several years, and looking back, Kristen said that the band has grown and evolved.
"The old Antigone was a little more self-indulgent where the songs were more like diary entries," Kristen began. "But now I think we've developed more lyrical writing… we like to play good, classic rock and roll, and we're throwing in a little more country too, because in country music it's all about the story being told."
In addition to extensively touring across the U.S., Antigone Rising is also running a packed promotional campaign for not just one but TWO brand new EPs for 2014: the already released Whiskey & Wine – Volume 1 and Whiskey & Wine – Volume 2 due out October 28th.
Antigone Rising has always been a band ahead of its time, and Kristen commented on how they are ready to adapt to the way the internet, specifically YouTube has been changing the music industry saying, "Really we're a band that has adapted really well to the internet…We try to use the internet in the most creative ways possible, and we love how everything is at our and even our fans disposal."
To continue their theme of creativity, Antigone Rising plans on doing things very differently with the releases of their latest albums; the band plans to put a laser focus on each and every song on the 2 EPs. Kristen described how they plan on making music videos for each song, which she admits would be a lot of work, but a lot of fun as well.
On tour or at home with their loved ones, Antigone Rising is all about family; you can hear it in the hard-rock- harmony of their music, and the lyrics of their songs. So stay connected and let Antigone Rising take you home with their new EP. These incredible women are family members who love their fans and will always keep in touch.