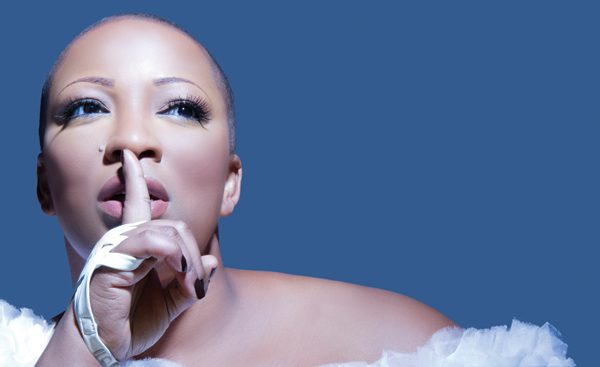 The alum of "American Idol" and "The Voice" is out, on her own, and showing fans who she really is.
Frenchie Davis, whose power vocals are hitting a dance floor near you, wasn't always so certain that a recording career was in the cards.
Years after she performed on American Idol in 2003, Davis was in West Hollywood, Calif., singing classic diva covers at a gay club, one of her favorite places to perform. That night, the casting director for NBC's talent show The Voice happened to be in the audience and asked her to audition. Davis wasn't sure. She'd been burned on American Idol after telling producers that topless photos of her, taken when she was 19, were out there somewhere in the ether. Though the photos never surfaced, the risk-averse producers didn't want to take a chance that they might.
They asked her to leave. Not one to let something like that kill her dreams, Davis hit the Broadway stage, performing in Rent and the Grammy-nominated revival of Ain't Misbehavin'. By the time the casting director for The Voice approached her, she was already established on Broadway and loving her career on the stage.
"I decided to be brave and take a chance, and I'm really glad I did," Davis says about agreeing to audition. She found herself performing on The Voice three months later, and watching the sign beneath Christina Aguilera's chair glow "I want you."
Now, Davis is out with the single "Love's Got a Hold on Me," from her forthcoming album Just Frenchie, where fans will hear her performing her own songs instead of covers. She sees this as a way to reintroduce herself in her own way, not through the medium of reality TV.
"I decided to make Just Frenchie because the world has gotten to know me through performing on Broadway and being on Idol and being on The Voice. For the first time, it's me doing my own music. It's just Frenchie."
Her album is also an ode to all the artists in her life who made her love singing and the art of performing.
Aguilera can count herself as one of them. Davis says she loved the concept of the coaching on The Voice, as opposed to the judging (and, sometimes, the humiliation) of Idol. "It's not just a whole panel of people critiquing and judging you," she says, "but it's fellow artists saying, 'Hey, I think you have something, but, based on my experience and expertise, this is what I think you can add to it to make it better.' "
Davis was one of the finalists on The Voice, and her cover of "When Love Takes Over" hit No. 3 on the iTunes dance chart. She gives Aguilera a lot of credit for pushing her to explore dance pop.
"To have all the songs I did on the show chart on the dance charts—it was like an eye-opening thing for me. I realized maybe I don't have to do R&B, maybe I can do this dance thing. It felt like a perfect fit because of the following I've had in the LGBT community and how much the people love dance music.
"I feel like the gay community has been right there with me from day one," she says. "From the very early days of my career, when I was a college student in D.C., performing at local gay clubs to make extra money for school—even from those days, I feel like the gay community has been by my side throughout this whole entire journey."
After Davis came out publicly as bisexual, earlier this year, she said hadn't planned on it, but she also hadn't planned on staying in. She said she was put in a situation where she was asked a question and she just answered honestly. "The journey to self-love and self-acceptance is too long and too hard to get to the end of it and then have to give ambiguous answers about who you are," she said. "I just don't want to have to do that."
Perhaps someone anticipated Frenchie Davis's coming out, and gave her a little nudge. When she auditioned for The Voice with a rendition of "I Kissed a Girl" by Katy Perry, she had to laugh. "A lot of people don't know that for The Voice audition, the production team picks your song for you," she said. "I just thought, okay, God's hilarious, and clearly there is going to be a coming out in my future, because I couldn't write this."
Support your LGBTQI Media