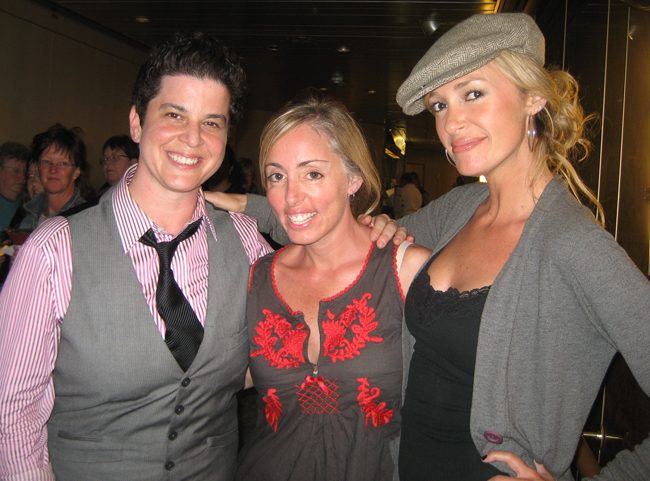 Jenny Block shares her adventures from Olivia's 20th Anniversary Western Caribbean cruise.
So, I guess this is it. The last day I will blog to you from the ship. We are enjoying our last breakfast on board. Our first time in the formal dining room for breakfast, actually. But even French toast doesn't taste as sweet when you know you have to disembark and head back to the real world in mere hours. But we sure did have a good time yesterday during our final day at sea.
It was kind of crazy actually. I had a great interview with Olivia founder Judy Dlugacz about the history behind Olivia Records and Olivia as we now know it. I also had the opportunity to interview the amazing Tisha Floratos. She serves as Julie the Cruise Director (remember the Love Boat?) when onboard. But when she's back at the Olivia offices, she's the VP of Travel and Business Operations, which means if it's happening at Olivia, Tisha is at least part of why it's happening.
Every morning on the ship, Tisha's voice would come across over the PA system, "Good Morning Ladies of Olivia." Then she would go on to make the day's announcements. Every night, she would introduce that evening's performers, entering the stage clapping and singing the Olivia theme song, "Beautiful Together," which starts, "Beautiful Together. Everybody shine baby shine with me. Beautiful Together. We lift each other up and we're feelin' free." It was just like summer camp. I love it! In fact, that was the thing I alluded to yesterday about what Judy always says about Olivia. "It's not just a vacation. It's an experience."
For me, it was an experience that I wish "real life" more closely imitated. No one cared what I was wearing or how my hair looked or who I loved. They just cared that I wanted to be there and have a good time and live my life openly and honestly and freely right alongside of them. I know I will miss that feeling—a lot. And I know that is the feeling that will lure me back to an Olivia trip once again. Apparently, that's also the reason Olivia is creating a community in Palm Springs where you can live year round or use as a vacation home or whatever. Sign me up!
Anyway, our last day on board allowed me the chance to also interview comedian Julie Goldman and her writing partner Brandy Howard who are shopping a hilarious screenplay that they allowed me to read. In case you're looking to get into the biz and have an extra $750,000 lying around that you're looking to invest. … Wish I did! They were so much fun to talk to, I couldn't wait to see Julie's show that night.
We play a lot of Scrabble on deck and, believe it or not, we also played bingo in the theater. The jackpot was around $2,200. Two women ended up splitting the prize. Can't say we weren't a little jealous.
Dinner was a hoot! All of the waiters marched around the dining room singing and clapping, delivering our napkins by laying them across our necks—weird—and setting out not our salads, but our salad experiences. (See photo above.) And they even danced out the baked Alaska that they served for dessert. It wasn't my cup of tea, but people sure seemed to like it. The food on the boat all week was really good. There was way too much of it—not that anyone was forcing me to eat the volumes I ingested—but it sure was good.
Yesterday was my girlfriend's birthday and the charming cellar master managed to find us breakfasting at a poolside table on the Lido deck and brought us two flutes of champagne. At dinner, he tracked us down again and delivered a personally decorated chef's hat for her to wear. Chef's hats for all were waiting for us at our tables, in fact (though not decorated with the words "Birthday Queen!"). But most of us did not opt to wear them. We had a big table that night for Jemma's birthday—Carol Queen and Jamie Martin from Good Vibrations, Curve's own Dipstick, our new friends Sharon and Amber, and, of course, my good friend Denny. It was a lot of fun. How I'm going to top it next year I have no idea.
Julie Goldman's show was the night's entertainment and to say she was hilarious would be a gross, gross understatement. I know people often say this when they see a comedian perform, but I really could not stop laughing and my sides still hurt even twelve hours later. She is irreverent and intelligent and self-deprecating and ovaries to the wall (that doesn't work quite as well, does it … ) I cannot wait to get to see her perform again and I sure hope she and Brandy do get their movie made. I don't know about you. But I'm ready for a romantic comedy where the leads are lesbians but the theme is universal. That is, no sweet or tortured coming out story. Just a love story that happens to be between two people of the same sex instead of opposite ones.
As we drifted off to sleep last night, I couldn't help but fantasize about where we might go with Olivia next … Africa, Greece, Mexico … and about the day when "real life" feels as free as I felt this week.
Hope you have a sunny day, whatever the weather,