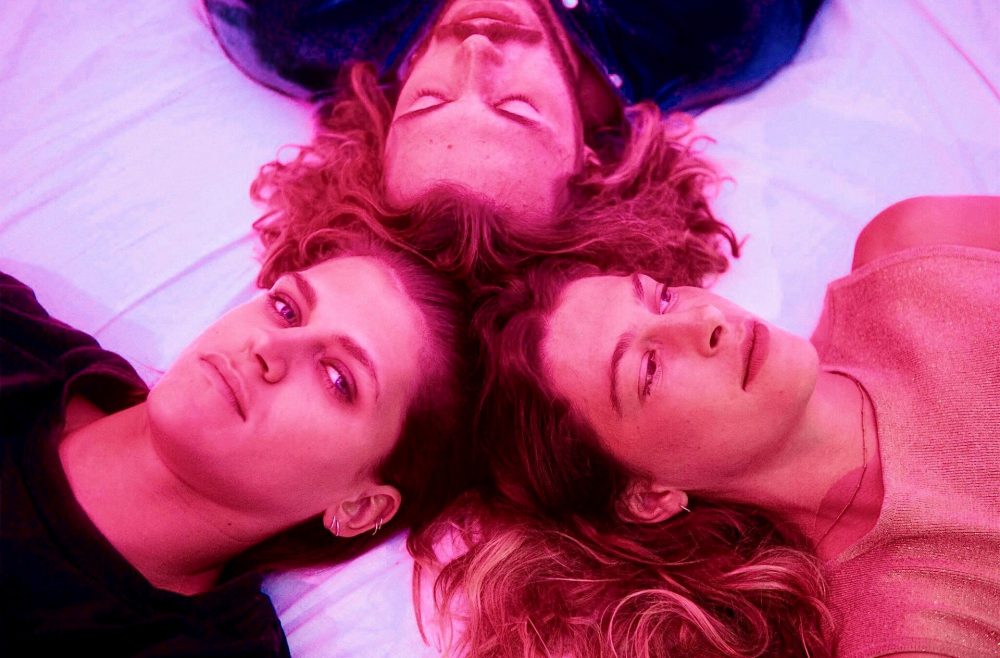 Cloudy River, a modern romantic drama about a couple, one of them pansexual, whose open relationship is put to the test when they move in together, will premiere at the Queer Screen Mardi Gras Film Festival on February 19 before launching on SBS On Demand on February 20.
This visually sumptuous, bold film is of the moment, but differs from other films and series about open relationships because it focuses on young adults on the cusp of deciding who they are.
Co-written and co-directed by acclaimed author Sophie Hardcastle (Breathing Under Water, Running Like China) and her former romantic partner and enduring creative collaborator, ARIA Award nominated filmmaker Charlie Ford, it is inspired by their own real-life experience of an open relationship, giving the show searing authenticity.
Sophie Hardcastle is an author, artist, screenwriter and scholar. In 2018, she was one of the first two Australians to be awarded a Provost's Scholarship in English literature by Worcester College at the University of Oxford. Sophie's forthcoming novel, Below Deck will be published in March in Australia and NZ, with the UK, Germany, France, Belgium and The Netherlands to follow.
"Cloudy River celebrates love in all forms and we made it because we wanted to show that love can be more diverse than what we were told growing up. This show defies traditional conceptions of what it means to love and be loved. Our protagonists are simply abandoning old ideals in search of a love that is multifaceted, dynamic and unapologetically honest," Charlie and Sophie said.
Cloudy River's soundtrack features independent artists from the UK, France, Mexico and Australia, and also features original music by co-creator Charlie Ford's band PLANTS and indie songstress Indigo Sparke.
The film received principal production funding from Screen Australia in association with Queer Screen and will be distributed internationally by Escapade Media.
Cloud River co-creators Sophie Hardcastle & Charlie Ford talk about their film
Why was it important for you to create Cloudy River?
Cloudy River is the story of pansexual artist (Emma) whose open relationship with her musician lover (River) is put to the test when they move in together. We made it because we wanted to show that there are more ways of loving and being loved than what we were told growing up. We also wanted to tell a story that explored both bisexuality+ and open relationships because these stories have mostly been underrepresented on screens.
What do you hope the audience will get out of the show?
We want our audiences to see and, hopefully, feel that love is diverse, and for us, synonymous with freedom. We also wanted to open our viewers' minds to wider possibilities… to show that it is possible to love more than one person, that it is possible to let go of jealousy, that it is possible to enjoy love's multiplicity in a healthy and sustainable way. And even more than that, we hope our audience will accept that an open relationship doesn't render the love weaker or make the relationship less legitimate.
If you could talk to yourselves 5 years ago, what would you tell yourself?
Five years ago, neither of us had recognised or embraced our sexual orientations. Now we've made a show that explores and celebrates our queer identites. From my point of view (Sophie), I would tell my younger self that it's all going to make sense one day. That with time, you'll come to better understand yourself and your desires, that you won't always be this confused. And I'd tell myself to be excited, saying that you'll soon open yourself to loving in new and exciting ways.
Is Cloudy River based on a true story ?
Cloudy River is inspired by our open relationship, which we were in back in 2017. We've fictionalised our story, but the philosophies that underpinned the relationship are the soul of the show. Together, we learnt how to love openly, which meant a lot of unlearning! We had to let go of the ideas we'd been conditioned to expect about the dynamics of an intimate relationship. Some people have been quite surprised to find out that we've made a show about a romantic relationship we're no longer in, but we feel that as co-creators, having shared such intimate moments together made it easier to create the show because we know and understand each other on such a deep level. We also just love making work together. From our first songs and paintings, to now a show… we're very high functioning ex's (laughs).
For someone who is coming to terms with or just discovering their bisexuality/pansexuality, what could they learn from the show?
We hope people discovering their sexual orientations will take our show as evidence that their experiences are legitimate, and that bi+ people and both the wider straight and LGBTIQ+ communities accept that bisexuality+ is valid and beautiful, and that it is possible to love and/or be attracted to more than one gender, or regardless of gender.
Where can we watch the show?
Cloudy River is having its World Premiere at Queer Screen's Mardi Gras Film Festival tomorrow night (Wednesday 19th February) and will be available immediately after on Thursday 20th on SBS On Demand as part of their Mardi Gras programming. It's headlining the Rainbow Pride section which we're pretty excited about as it brings so much legitimacy to the Bisexual+ community to see themselves represented and celebrated in this way.
Cloudy River, a modern romantic drama about an open relationship, to premiere at Queer Screen's 27th Mardi Gras Film Festival ahead of streaming on SBS On Demand
Support your LGBTQI Media