09may7:30 pm8:30 pmFeaturedHot Spots and Connect the Dots Presented by The Golden Crown Literary SocietyEvent Type:Festivals,Virtual Festival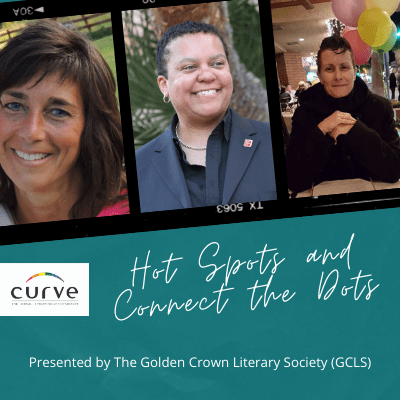 Event Details

 

Bring your cold drink as these leading romance writers reveal their sexy, sultry secrets in connecting characters in the powder keg where erotica and relationships collide.

Authors will open with a 5-minute reading, followed by a steamy Q+A.

Annette Mori

Annette is an award-winning author, published by Affinity Rainbow Publications, who lives in the beautiful Pacific Northwest with her wife and their five furry kids. With twenty published novels and one Goldie Award for her fourth novel, Locked Inside, she finally feels like a real author. Annette came up with the One Fan at a Time tagline, because it rolled off the tongue much better than One Reader at a Time. If someone picks up one of her books and it touches them, she believes she has achieved her goal of reaching each reader. It is who she is at her core.

Isabella

Isabella, an award-winning author for Sapphire Books, has written fifteen novels, with her newest release, Faithful Valor, third in the Faithful series. She is currently working on the fourth in the, American Yakuza saga, Blood Honor. 

She also writes under the nom de plume. Jett Abbott, with two books in the Scarlet series, Scarlet Masquerade and Scarlet Assassin.

Check out her erotic shorts, Last Train, A Marine Christmas, coming soon, The Tinderella Chronicles.

She lives on the central coast of California with her wife. she teaches at a local college and has three wonderful sons. She rides motorcycles when she's not writing or remodeling a cabin in the Sierra foothills.

Virginia Black

Virginia Black drinks fine whiskey and writes gritty women-loving-women tales of lustful angst with happy endings. Her works include the contemporary romance novella Big City Blues, and the short story "Constant" in the upcoming GCLS Writing Academy anthology Writing Freedom. Virginia lives in the Pacific Northwest with her family and is always hoping for rain.

Moderator:  Sallyanne Monti
REGISTRATION IS A SLIDING SCALE OF $10 TO $50 PER TICKET (AS YOU CAN AFFORD)
You can make a difference!
LGBTQI artists and businesses have been hit hard through show and events cancellations. Together we can support the arts and our LGBTQI community. The virtual festival provides the opportunity to help through financial donations, however small.
Foremost, this virtual festival has been set up to support LGBTQI Artists and businesses!
Time

(Saturday) 7:30 pm - 8:30 pm EST
Organizer
Curve Mediasilke@curvemag.com
Cost
REGISTRATION IS A SLIDING SCALE OF $10 TO $50 PER TICKET (AS YOU CAN AFFORD)