Angela Pollard and Emma Hurst are the Animal Justice Party's new candidates for the New South Wales Upper House
Angela Pollard is warm, friendly and quite literally down to earth, having just come in from her Northern Rivers garden with freshly picked asparagus. She and Emma Hurst are the Animal Justice Party's new candidates for the New South Wales Upper House.
The Animal Justice Party is uniquely positioned for the 2019 NSW State Election, with the two major parties "poking each other's eyes out", as Pollard puts it.
"People are really exhausted at the antics of the major parties," Pollard explains. "The electorate is jaded. They're saying 'these guys just go backwards and forwards. Whoever we vote in, within a couple of years, their egos are rampant, there's corruption, they're not paying attention to what the voters want.' I think people are turning towards the minor parties because, for example, the Animal Justice Party, has something to offer and we're completely transparent about what that is."
I ask about her confidence and Pollard tells me "We're an awful lot more confident than we were four years ago. Mark [Pearson]'s election took everyone by surprise, because the party was incredibly new. We had lots of hope and energy, but that was only going to be the trial run." When Pearson was elected, she says, chuckling, "He didn't even have a suit!"
Pollard has been Senior Advisor to Mark Pearson since his election to the NSW Legislative Council in 2015. "Once that happened we knew that we had the opportunity to consolidate and grow, and that's what we spent the last four years doing."
Pollard and the other Animal Justice Party members have been working hard since 2015. "Mark has used the opportunity as an MP, of course, to speak about animals, exploitation and suffering. When Parliament isn't sitting he's on the road talking to people. We think that's going to consolidate to a win in the March election." Pollard adds, "We've been told by the major parties that they're pretty sure we'll get it, too."
Politics has already significantly impacted on Pollard's personal life. When Pearson called and offered her the job, she tells me she was hesitant at first. "I'd never really thought about it, because I was a hippy, a country girl living in northern NSW. I've never had much of an ambition; it's always been about serving the community." Her partner, a Local Government Councillor and a meat eater, told her that she would regret it and insisted that she try.
Pollard accepted the position, and works from their 20 acre hobby farm home. She commutes to Sydney when Parliament sits, which involves about 22 weeks a year and three days per week. "It's been horrendous but also deeply satisfying", she says. "I'm addicted now. I draft Mark's speeches and motions and questions. I'm very connected to getting that voice for animals into Hansard, the record of what people say in Parliament. When I do the research and the drafting, I think this is there for history, every step we take is now recorded, we can just move forward every year."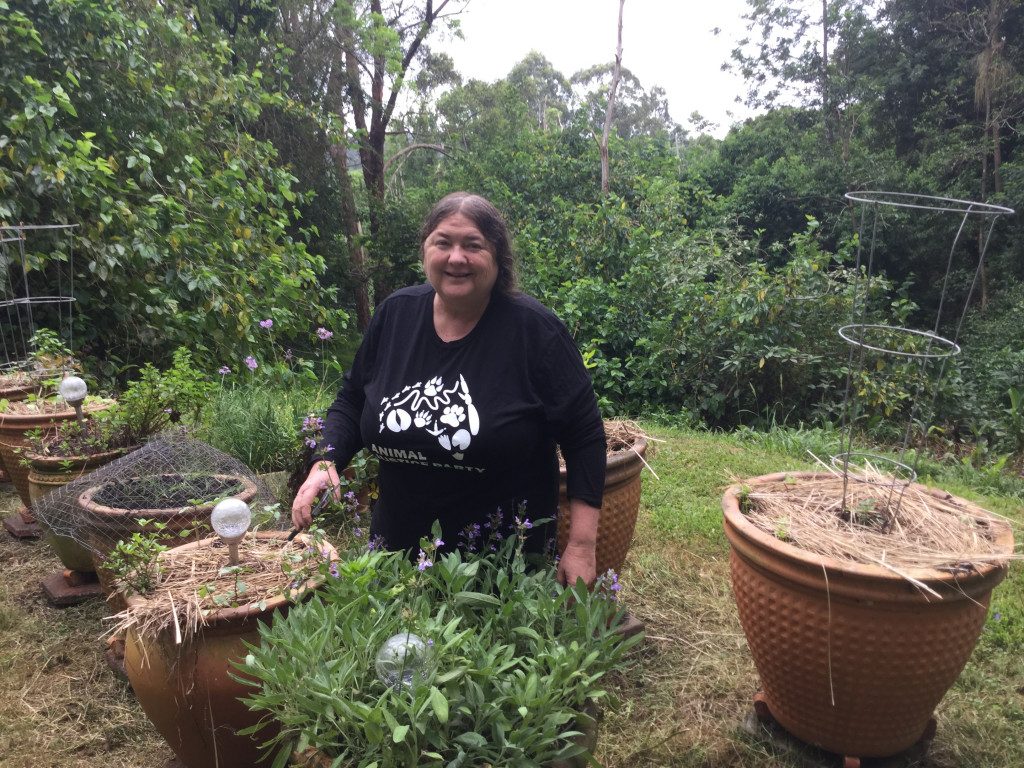 I ask Pollard why LGBTI people might vote for the Animal Justice Party, rather than other parties that might address our needs, and she answers immediately.
"Because we have big hearts. We know what it's like to face discrimination, powerlessness and vulnerability. We're all on a journey together. LGBTI people are at the forefront of this movement."
There are many LGBTI people in the party. "It seems to come quite naturally to us," Pollard says. "We understand the language of exclusion and the suffering of animals because of what has happened to LGBTI people in the past and the journey we're still on."
The Animal Justice Party's position statements on issues that are not related to animals, such as asylum seekers, voluntary euthanasia and marriage equality are on their website.
Pollard tells me that the members of the Animal Justice Party consider each issue "through human need and animal need. We don't think they're in conflict."
This is not surprising. Pollard's trade unionist parents stood up for the voiceless; Pollard – in her work as a lawyer, advocate, activist and now politician – seeks to incorporate the interests of animals into the social justice movement and provide them a voice in Parliament.