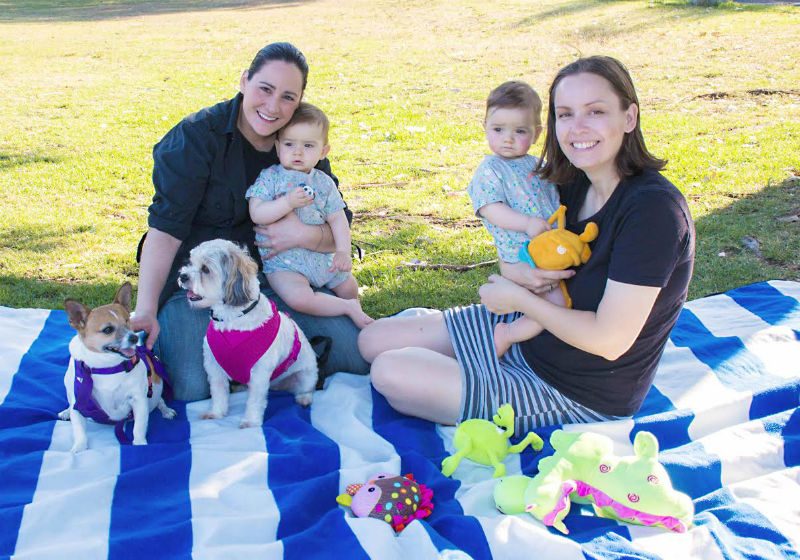 The couple offers advice on finding peace in negative experiences.
Filmmakers and couple Bianca and Rebekah Biasi are passionate about advocating for marriage equality in Australia. The couple recently spoke out about the dangers of the now rejected plebiscite.
A post to their blog, The Quirky Guru Online, gained attention by addressing  the struggle for marriage equality still seen, the issues a plebiscite would have exacerbated, and why it is so important.
LOTL spoke to Bianca and Rebekah more about marriage equality, how their twin daughters inspired them to advocate, and finding peace in negative experiences.
Why do you think Australia is still struggling to pass marriage equality?
Australia still doesn't recognise marriage equality as a human rights issue, so it's not really a priority for most people. We are also predominately governed by a government that is against it which makes it difficult for any real change to take place. If we unite and work towards drumming up support from all of our peers both LGBTQ+ and straight in addressing these stumbling blocks, then we believe that we would see marriage equality passed swiftly.
When did you decide to help bring awareness to the potential plebiscite and the importance of marriage equality?
Once our children were born. Becoming parents changed us in ways that we had never even imagined. We started to look at the world very differently—as mothers, we want our children to grow up in a world that recognises and respects people from all backgrounds and walks of life as equally important. The current state is not good enough for our children or anyone else's children. It's only by our own individual change that we can create a better outcome for them, make the world a better and more tolerant place, and leave a legacy for generations to come.
In the blog post, Bianca writes that the world "seems to lack the core values of love, respect, and compassion." In a time when we seem to be surrounded by such negativity in the media, how do you and Bianca keep these core values in focus?
We choose to see the good in everyone realising that most anti-equality campaigns come from a place of fear or lack of understanding. Ultimately it's a choice; you can choose to dwell in the negative or you can choose to see the good in everything knowing that every circumstance good or bad, is key to human evolution and major personal growth can take place if the situations are treated as such. We have learned that giving into negative people or situations or environments only really causes us harm and gives our power away. When you choose to focus on the positive support and love that does in fact surround us, the negative seems to lose its effect.
How can advocates, like yourselves and our readers, inspire others to support marriage equality and other human rights issues?
We can become more vocal in a loving, supportive and positive way—whether it's on social media, by joining community groups or showing support to the marriage equality movement. Aside from that, we can support each other through random acts of kindness, or just by checking in on each other as a community to make sure that everyone in our circle is okay.
With any human rights issue the stress of segregation and judgment tends to lead to self-esteem issues, so checking in on each other is really important. This type of love, care, respect, and community support does not go unnoticed—in-fact it becomes infectious. We are strong believers that whenever genuine love and care are expressed, all walks of life are drawn to it and will stand to protect it.
How can others find peace within their negative experiences?
Learn to let them go and correct the same behaviour within ourselves wherever it may be present. It's easy to get caught up in the harmful things that people do or the thoughtless things that they say, and even more tempting to fight fire with fire, but this approach only ensures that we end up re-living the negative experience over and over again. Don't let them steal your happiness away. Practice being present in the current moment and focus on the good things in your life: your loved ones, your friends, your pets etc. Do what makes you happy and let it glow within you.
Choose to focus on all the support that is out there for the LGBTQ+ community and stop reading, watching, and focusing on all the negative stuff. There really is so much wonderful support out there. We didn't truly realise it until we started our blog—the vast amount of words, texts, emails and comments of encouragement we get daily is staggering. There is so much love and support—if we put all of our attention on that, then any negativity thrown at us will cease to have power in our community, and that encouragement will also give us (collectively) the internal strength to stand up united with pride for who we are.
Support your LGBTQI Media